For any cannabis enthusiasts who have missed traveling over the past year and a half, the wait is over! In addition to the return of less restrictive travel, many states have also changed or updated their cannabis laws in recent years. This means heading somewhere new, lighting up, and kicking back doesn't have to be mutually exclusive. In the meantime, while looking for cannabis dispensaries nearby, check out this list of 420-friendly U.S. vacation destinations.
Cannabis Travelers Guide
1. ANCHORAGE, ALASKA
Recreational cannabis has been legal in Alaska since 2015. Anchorage is the state's largest city and is home to dozens of dispensaries. While there are many places to explore in Alaska while being stoned, public consumption is illegal, so be sure to follow the state laws while you enjoy your vacation. Check out 10buds' guide to cannabis tourism in Alaska.
2. DENVER, COLORADO
This might not come as a surprise to anybody, but Denver remains one of the best destinations for 420 enthusiasts and anyone that would consider themselves cannabis curious. Colorado has long been on the forefront of decriminalization, legalization, and commercialization efforts. (According to the most recent reports, Denver has more cannabis shops than Starbucks locations in the city.) There's marijuana clubs, infused food and drinks, and even cannabis tours.
3. LAS VEGAS, NEVADA
As one of the first states to legalize recreational weed in November 2021, Nevada is one of the ultimate destinations for weed travelers. Exploring the City of Sin after partaking in a session allows tourists to have a [high]tened experience. Las Vegas neighborhood dispensary, Wallflower Cannabis House, recently celebrated their grand reopening and is open 24 hours a day, 7 days a week. Stop by at any time for the best flowers, edibles, concentrates, and more! We are located at 6540 Blue Diamond Rd, Las Vegas, NV 89139.
4. PORTLAND, OREGON
Portland is a notoriously eco-friendly city, but the past decade has seen the Oregon city become even greener. There are almost double the number of cannabis shopping outlets as there are liquor stores in the Portland area. Some hotels even offer cannabis packages, which feature in-room amenities curated to individual tastes. Talk about kicking back and relaxing.
5. SAN FRANCISCO, CALIFORNIA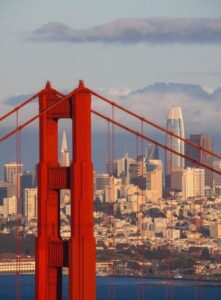 Of course, San Francisco, long a haven for hippies, would have a connection to cannabis culture. (Some even seem to believe that San Francisco has the best selection in the whole state of California.) Earthbody, a beloved spa in the area, offers cannabis-infused rituals, taking the escape up to a whole new level. Of course, San Francisco's beloved nightlife scene also offers some of the best cannabis-infused food and drink.
6. SEATTLE, WASHINGTON
Washington was the second state to legalize recreational weed in 2012. Seeing a dispensary is just as common as seeing a coffee shop. If you don't know where to begin, here's a list of the top Seattle dispensaries. Cannabis laws are governed by the Washington State Liquor Control Board (WSLCB).
7. WASHINGTON, DC
The Capital of the USA still has a ways to go in regards to recreational cannabis laws, but has actively become a popular place for cannabis consumers. DC has 7 medical dispensaries, but a rising number of recreational and delivery services. Selling weed is illegal; however, "gifting" has become a popular way for those without medical marijuana cards to partake.
Check state laws before you visit to ensure you're consuming safely and legally. Happy traveling!