It's more than just about the products and the space, it's actually all about the people.
A few weeks ago, when the whole world was talking about setting the mood for the chillest day of the year, we decided to sit down with some of our budtenders and chat about what makes their journey at Wallflower Cannabis House so fulfilling. Our budtenders are the reason for the season, and, while we celebrate them all year round, we wanted to spotlight them now in particular.
Spotlight on Annalize Jewell
Anna is a dynamic individual whose motivation for being in this industry is more personal than many. She has interacted with customers who went from being skeptical about the benefits of cannabis, to ultimately allowing it to change their lives. Witnessing this makes her want to keep going every day.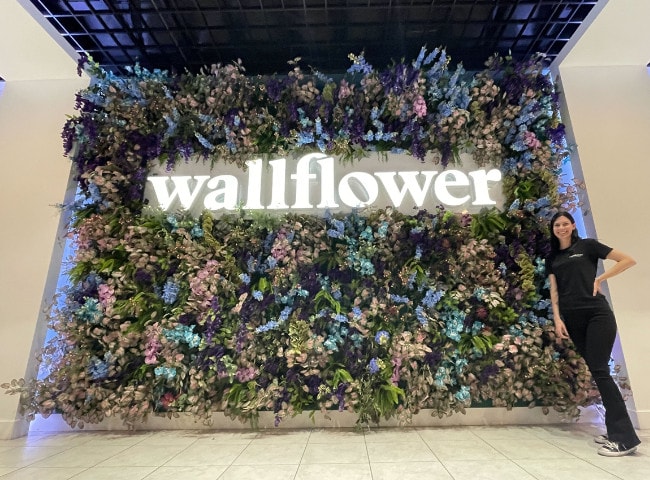 The entire team is truly a family. Working 10 hours a day, 4 days a week makes some of the staff feel like they spend as much time at Wallflower House as much as do at home — and for them, it really is a second home. The team is knowledgeable, passionate, driven, and kind. People feel that energy and connection from the moment they walk through that flowery archway.
Say hello to Francesca Gallo – who is extremely candid and fun
Q. How would you say the industry interests you, and why do you feel motivated to continue?
A: I've been at Wallflower Cannabis House for over a year, and I still feel like I learn something new every day — whether it be from my coworkers, supervisors, vendors, or sometimes even customers. I love noticing how much I've learned about cannabis since being in the industry, and I applaud how diverse it is.
There is truly something for everyone within this industry, and that is what motivates me to keep learning and growing. Being a person who has struggled for a long time with anxiety, I love being able to share my experiences with customers. Tips and tricks sure go a long way; and sometimes a customer wants more than a sales pitch. I care about connecting with them and suggesting a product that is genuinely likely to help them in a positive way.
Q: What are some of your favorite ways to consume cannabis?
A: I'm a long time flower smoker, and since joining the industry I've grown to love edibles quite a bit as well. I used to be rather scared of edibles and feared that I'd overdo it and end up having a bad time. I now know that there is a large variety of edibles, with something to suit everyone's needs – whether it is pure THC, or a mixture of CBD and THC to help with pain and stress, or CBN to aid better sleep. Not only are they helpful, but the high you get from them is a total vibe check.
Q: How do you usually spend your day at the dispensary?
A: My role at Wallflower is that of a Trainer as well as Budtender. Depending on the day, I'm either on the sales floor chatting up with customers or spending the day with our new hires — teaching them and getting them ready to be a Budtender! It feels great to see employees transitioning into their roles confidently. The two roles are different but I love them both equally. I feel extremely proud to educate customers and incoming members of the industry of the many positives of consuming cannabis.
Q: What would you say are the patterns of purchase behaviors or consumption behaviors in customers? How have they changed?
A: I've definitely realized it's common for people to stick to what they know and not try anything new. I've noticed sativas often get a bad rep — many customers believe every sativa or sativa hybrid will cause anxiety or paranoia. I used to think so too, before I entered the industry. I always try to encourage people to step out of their comfort zone. Sativa strains can be so fun and euphoric, as long as you know what to look for! I've noticed the longer people consume, the more likely they are to try something different.
Q: What are some of the most common questions that customers ask you?
A: I do notice that many dispensaries don't display terpenes for customers to see. We made sure to do that for all of our products. It's extremely common for people to ask, "What does this word mean?" when looking at the terpenes on our display cards. Honestly, this is actually one of my favorite questions to be asked. Informing customers about terpenes and their many attributes helps them learn so much beyond just "indica" or "sativa."
Q: How do you constantly keep up-to-date with new products, dispensaries, news, etc?
A: We participate in regular budtender classes with vendors we house, and it's the best way to know more about all our new products right from the source. I'm also constantly reading articles online so I stay up-to date.
Anna is just one of our amazing Budtenders, and is constantly pushing herself and her team to continue learning and growing. Stay updated for more staff spotlights like this one in the future, and never hesitate to reach out with any questions about our product lines. Anna and her team will be sure to help connect you to the best options around.
If you're feeling inspired by our bud-tenders, head over to our Menu and select from our varied range of products! Add some more chill to your day with the convenient option of cannabis delivery near you – brought to you by Wallflower House. Weed Delivery has never been better!