Wallflower Cannabis DIspensary stands for everything progressive and inclusive.
Picking a workplace that feels safe and empowering is becoming more and more important as people try to find the right jobs. Employees working at cannabis dispensaries also want to express themselves and their orientation freely, considering all the stereotypes and prejudices they have to navigate through. We took the opportunity to talk to some of our employees that represent the LGBTQ community; and shared a grand few moments of empathy and exhilaration.
There is a sense of civility to be seen in this crowd. The co-workers are also seen helping out one another on the sales floor, using their downtime to uplift one another, and staying positive throughout their shifts together when the ship gets rocky.
When we asked our budtender, Em whether they can feel comfortable in their own skin at Wallflower Cannabis House, they said they feel liberated and grateful because the colleagues value and hype them up.
"Em, how do you think inclusivity and diversity affect the cannabis industry and your job as a budtender?"
"If you think of the typical type of "stoner", you think of Cheech and Chong, Snoop Dogg, and Seth Rogen. To walk into a dispensary and see a different array of people, changes your outlook on who all enjoys cannabis. Even standing behind the counter, helping guests, makes you see other Queer people _ and they are as happy to interact with us as we are with them. It's a very heartwarming feeling to know that you can create that safe space for someone else."
---
Spotlight on Sky, who cheerfully told us how they're celebrating this Pride Month!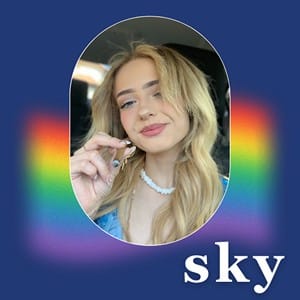 "This Pride Month, I am going all out! If I had to narrow it down to just one cool thing though, I would say the coolest celebratory thing I'm doing is rolling up an eighth of Mango Kush in a big 'ol hemp wrap, buying my favorite food, and laying in the park for a few hours."
Inclusivity & Diversity in the Cannabis Industry
Inclusivity and diversity go hand-in-hand with the cannabis industry, and subsequently, all their jobs as budtenders. Budtender Andy said it well " I think it's important to live loud, queer, and unapologetically all the time." and we could not agree more.
"This is the hardest struggle working in the cannabis space, especially with a mostly residential clientele. Queer people are still struggling with being "palatably queer" for straight masses, and that is not something I adhere to. And I do actively find that the queer people have to struggle or work harder to be viewed as knowledgeable or accountable to most. But diversity is important to show that everybody, everywhere, from every walk of life, can be involved or passionate about this industry. Just like anything involving a minority group, diversity/inclusivity is integral to breaking barriers so the door is wide open for the next person."
---

For Andy, coming to a new workspace as a non-binary, femme presenting person, has been challenging, because they always had to worry about if their identity would be recognized and respected.
But that hasn't been an issue with the staff and management at Wallflower. They feel respected and validated at work, and even feel that their co-workers go the extra mile in addressing them correctly and even to the customers.
It's all about how well you're treated, and whether you feel like you are an asset at your workplace. For this gang, kind words make all the difference and it truly makes a positive impact on their lives.
Shop our Pride-Inspired Products
In the spirit of the month, we picked a few products from our store that will lift your mood and ensure that you keep having the best time this June!
Leaf & Vine's Candy Store is for those that enjoy a sativa-dominant hybrid. Make things exciting with Stizzy's Pink Champagne – a Bay-area bred indica-dominant strain that will leave you happy and giggly. It is also a great choice for a soothing, pre-bedtime routine. The Diamond Dust flower is as euphoric as the name suggests – our customers prefer this as a morning/evening strain and really swear by its mild head and body high.
People excited about pre-rolls will definitely like the Spiked Flamingo Stardust Infused 2pk Prerolls (1.5G). And finally, CAMP's Dark Rainbow Hash Rosin Disposable is a combination of 76.1% of D9-THC and 0.12% of CBD; leading to a relaxed and happy effect.
No matter what your taste buds crave, Wallflower has got you covered with our wide range of flower, pre-rolls, vape carts, topicals and concentrates. Don't break a sweat about how to get your favorite cannabis products – our in-store shopping, online and mobile store, curbside pick-up, drive-thru, and delivery methods make it extremely convenient for all our customers.
Walk in, chat with our budtenders, and shop for good times!