Join us as we celebrate our journey, people, and success.
Celebrate with Wallflower as they turn 2 this June. In honor of their 2nd anniversary, the neighborhood's favorite dispensary is throwing a luau in their parking lot and is making this bash open to all! If you've been interacting with the wonderful people at Wallflower in a professional capacity, now is the time to truly get to know them.
CANNABIS DEALS + EVENT TICKETS ARE AVAILABLE ALL-DAY
Find yourself spoiled for choice among Airo's 0.5g carts, Rove 5g carts, and Wyld gummies. For those of you that have a liking for premium flower and pre-rolls, be sure to check out Quinn River 1g pre-roll packs, a range of infused pre-rolls, and varied Top Shelf 3.5 Flower.
Deals will be available to shop as early as 6 am on June 18th – you can add them to your shopping cart on our online store, or simply purchase them at our Drive-Thru. For everything else, you are welcome to chat up with our budtenders and staff to find products that are suitable for your unique tastes.
WHEN? June 18th, starting at 6 p.m.
WHERE? The parking lot at Wallflower Dispensary at 6540 Blue Diamond Rd, Las Vegas.
Ticket and product bundles of $60 and $100 will be available for purchase all day at the dispensary.
A MIX OF BOOZE, POP-UPS, GAMES & PRIZES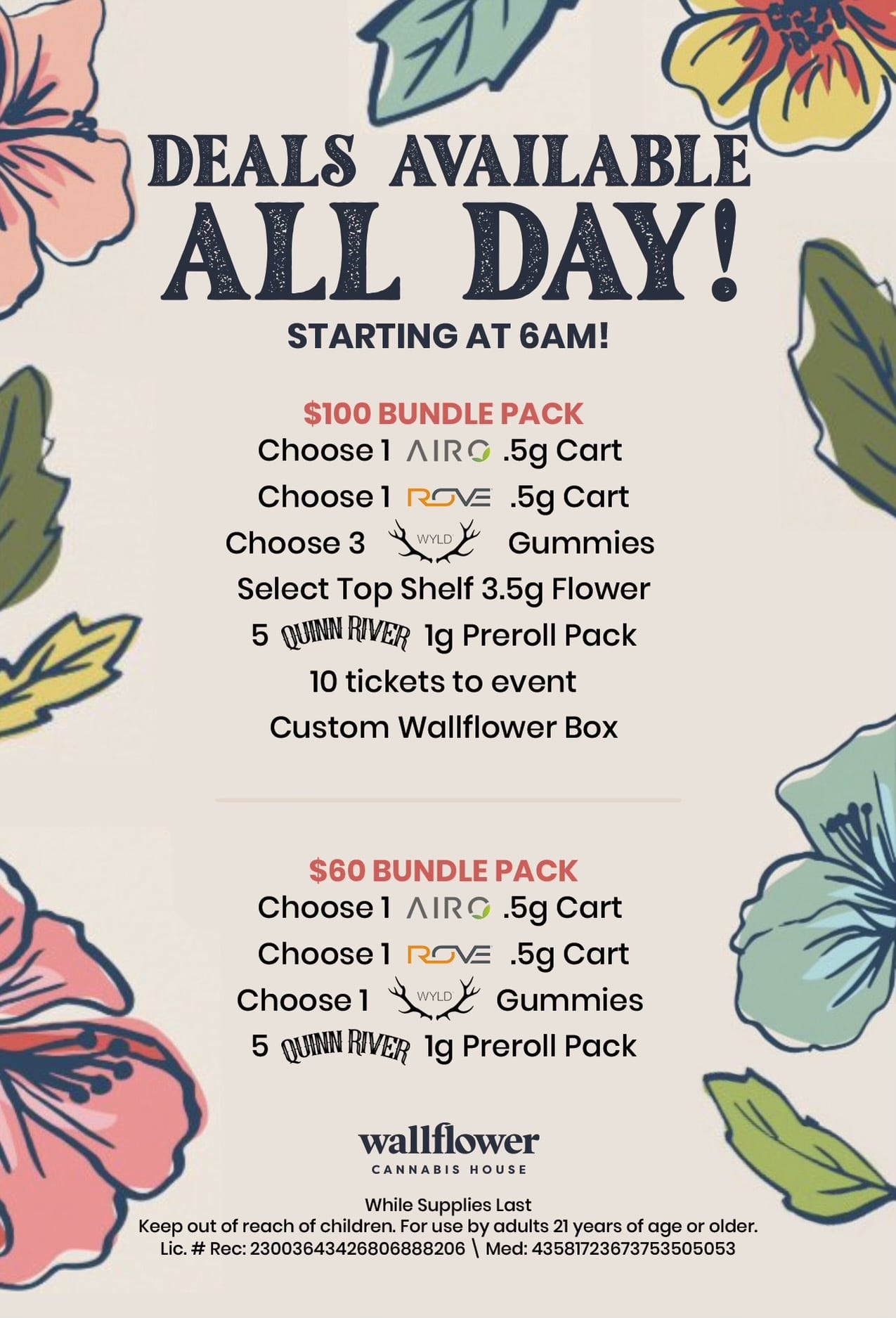 Grab a drink and some food at the Jus Jerk, and head towards the carnival games hosted by our vendors – Airo, Rove, Wyld, and Quinn River. You are sure to win some cannabis prizes that our vendors have thoughtfully curated for you!
Venture into the store to see a display of products across the flower, pre-roll, edibles, vapes, and topical categories, where you will also find interesting pop-ups.
We look forward to seeing you and spending a chill summer evening with you! Follow @wallflower_house on Instagram and stay tuned for more updates as we're closer to the event.